SWET Team Finds Meth Lab Components In Constantine
Thursday, September 14, 2023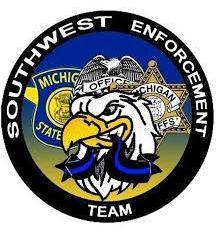 (CONSTANTINE) – Authorities found parts of a meth lab at a residence in Constantine.

Detectives with the Southwest Enforcement Team's South Office and Michigan State Police from the Marshall Post executed a search warrant Tuesday in the 66,000 block of Klett Road. During the search, detectives found components of a meth lab, along with signs of distribution of illegal narcotics.

No arrests have been made as this is an ongoing investigation, with multiple suspects. SWET officials are anticipating numerous felony charges once the investigation is complete.

If anyone has information on this case, they are asked to call Detective/Lieutenant Evan Hauger at 269-982-8664.

The Southwest Enforcement Team is a multijurisdictional task force that has been operating in Southwest Michigan since 1981. SWET is comprised of sworn law enforcement personnel from the St. Joseph County, Allegan County, Berrien County, and Kalamazoo County Sheriff's Offices; along with the Covert Township, Kalamazoo Township, Hastings and South Haven Police Departments and the Michigan State Police.