Education Day At St. Joseph County Grange Fair
Tuesday, September 19, 2023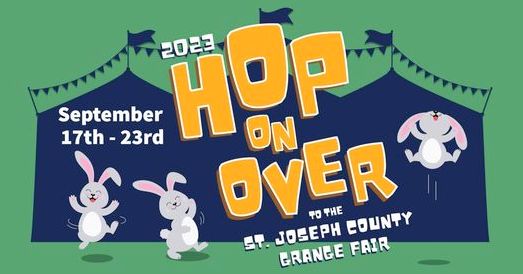 (CENTREVILLE) – Another fun day is waiting at the 2023 St. Joseph County Grange Fair.

Today is Education Day at the Fair, sponsored by the St. Joseph County ISD and Century Bank & Trust.

This morning's events include the 4-H Horse Show Driving and the 4-H Beef/Dairy Beef Cattle Show, along with the 4-H Open Class Beef Show. Also the morning is the 4-H Dairy Feeder Show.

There will be Bingo in the Community Tent at 9 AM. At 12 PM, Harness Racing will take place in the Grandstands.

From 12 PM to 2 PM the Rotary Luncheon will be taking place in the Community Tent.

The Midway opens at 3 PM and it's another Ride Wristband Day.

At 4 PM the 4-H Sheep Show will be happening in the Show Arena. The Blanket Wheel will be on the Free Stage starting at 5 PM, and followed at 6 PM by Top Secret. At 6 PM in the Community Tent you can hear the Marty Miles Trio.

At 7 PM there will be Figure 8 Racing in the Grandstands.

For more information on the 2023 St. Joseph County Grange Fair, you can visit their website LINKA. You can also go to the Fair's Facebook page.